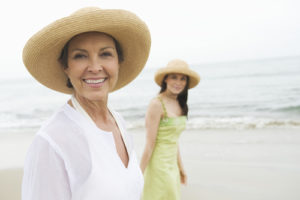 Summer is everybody's favorite season. Families love spending these hot summer days on the beach, and already start planning their ideal summer getaway in the winter. Senior family members are no exception. Not only is the beach good for their mental health, the exercise they get from swimming can yield a lot of benefits.
However, along with all the joys of going to the beach comes a myriad of issues. This is especially true for children and seniors. We already discussed how dangerous summer can be for seniors in one of our previous articles. Being on the beach makes matters even worse. Often, there's little or no shade where seniors can catch a break from the sun. Furthermore, if not properly hydrated seniors can experience a number of health issues.
A little planning can help your senior loved ones stay safe and enjoy their time at the beach. In this article, our experts at the leading home care West Hollywood referral agency explain what it takes to keep seniors safe during your beach trip.
More