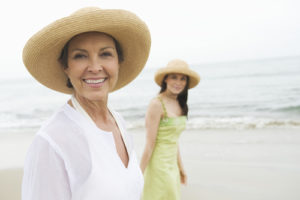 Summer is everybody's favorite season. Families love spending these hot summer days on the beach, and already start planning their ideal summer getaway in the winter. Senior family members are no exception. Not only is the beach good for their mental health, the exercise they get from swimming can yield a lot of benefits.
However, along with all the joys of going to the beach comes a myriad of issues. This is especially true for children and seniors. We already discussed how dangerous summer can be for seniors in one of our previous articles. Being on the beach makes matters even worse. Often, there's little or no shade where seniors can catch a break from the sun. Furthermore, if not properly hydrated seniors can experience a number of health issues.
A little planning can help your senior loved ones stay safe and enjoy their time at the beach. In this article, our experts at the leading home care West Hollywood referral agency explain what it takes to keep seniors safe during your beach trip.
Apply Sunscreen
One of the most important things you should do to keep seniors safe on the beach is encourage them to apply a lot of sunscreens. Protecting their skin against the cruel sun's rays is extremely important, as seniors are more vulnerable to UV damage, which can, in turn, lead to skin cancer. Therefore it's important to apply various sunscreens frequently to keep their skin protected. Seniors should also keep a light hat and a long-sleeve shirt to prevent prolonged direct exposure to the sun.
Stay Hydrated
Another major issue for seniors is dehydration, as seniors don't feel thirst the same way they did when they were younger. Because of this, they may not get enough fluids which can lead to a number of other issues. Therefore, it is up to you to ensure you have cool water nearby at all time and encourage your senior loved one to drink plenty, even if they don't feel thirsty.
Don't Let Seniors Alone in the Water
Nobody should swim alone, and this is especially true for seniors. As we age we lose much of our strength, flexibility and balance. Seniors could easily lose their balance and slip in the water, especially if the current is strong. Therefore, you should keep a close eye on seniors while they are enjoying the water.
Encourage Supportive Footwear
According to the Center for Disease Control, slip and fall accidents are among the leading causes of injury and death for seniors. Like we mentioned earlier, the sandy and rocky ocean floor can be dangerous for seniors. Even a small slip could result in a bone fracture when you get older. Therefore, make sure seniors wear supportive, sturdy shoes for their walk on the beach.
Make sure there are Lifeguards Present
Even if the water seems calm, there's always a chance you might slip or get a spasm and start drowning. Therefore, make sure there are lifeguards present who can help if the need arises. Don't wander off on abandoned beaches, as nobody can answer your pleas for help there.
Ask Seniors How They Feel
The best way to know if your senior loved one needs anything is simply asking. If they complain about being lethargic or dizzy, maybe you should pack your bags early and escape the sun. A common issue seniors experience during the summer is a heat stroke. According to webmd.com, the symptoms of a heat stroke are headaches, dizziness, nausea followed by vomiting, lack of sweating or seizures. If your senior loved one experiences any of these, seek medical attention immediately.