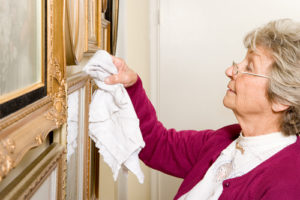 Aging in place has many benefits as we have previously discussed. If you senior loved one prefers spending the rest of their life in the family home, keeping that home neat and tidy is instrumental, but can also prove incredibly challenging. Seniors may not be able to keep the home clean and organized all on their own, and giving them a helping hand yourself or hiring a caregiver recommended by a trustworthy senior care in Los Angeles referral agency can go a long way.
However, messy dishes aren't the only problem elders would be facing. Organizing your elders' home is even more important to them than it is to us. Senior loved ones need to have the items they use daily, such as food or medication always available, even more so if their movement is limited or their memory unreliable. Here's how you can help make their life so much easier by organizing their home.
See What You Are Working With
The first step you should take is making a list of everything that might pose issues to your senior loved ones. In order to do so, determine which part of the home they spend the most time in and see what you can do to make the time spent there more enjoyable. If they enjoy spending time in the kitchen, you could help them by eliminating the mess in the kitchen cabinets or cleaning the refrigerator out.
If they keep a pet you could help by organizing their toys, as rubber bones lying on the floor could be a potential hazard as well. Cleaning out the bathroom vanity and the medicine cabinet are also essential steps, no matter which room elders spend the most time in. After you've addressed all the issues, it is time to start developing a plan.
Get Your Elders' Opinion
Before you start the actual process of cleaning everything up, it might be wise to consult with your senior loved ones first. We are talking about clearing out things that they have been collecting for ages and might be sentimentally attached to. Don't insist on changing the things that need to be changed from your perspective alone, gain theirs as well. Pay attention to what they have to say and you might see the problems that are bothering them the most, whether it is not being able to find their medication or their medical and personal documents being all over the house.
Find the Biggest Issues and Resolve Them Together
If, for example, finding their medication is an issue, you should discuss how you can make it easier. This is when you should present your suggestions and see if your senior loved ones agree. Remember, you are doing this for them which is why seniors should be the ones excited about an idea and not you. If there are a lot of old items you need to get rid of, be sure to ask your elders for approval. That old cupboard might seem like worthless piece of junk to you, but might hold memories dear to your senior parents. Maybe that cupboard is where you made your first steps or gained your first bruise.
A good way to keep the memories of such treasures alive and get rid of the clutter is taking pictures of items that hold sentimental value to your loved ones. If they agree to get rid of unnecessary possessions, there are a few ways you could proceed. For example, you could hold a garage sale or donate any unnecessary stuff.
Seek Help from the Best Senior Care in Los Angeles
Getting your home clean of clutter and well organized is just one part of the job. The other is keeping it that way. A Better Way in Home Care is a respected caregiver referral agency serving Los Angeles, Santa Monica, Beverly Hills and other locations. Our compassionate caregivers can help your senior ones and make their life easier by offering services like meal preparation, transportation, light housekeeping and more. For more information on our services contact us through our website form or at (818) 788-9995.