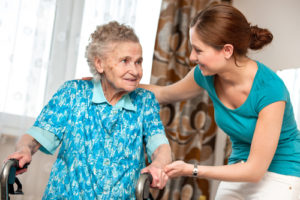 Pairing a senior and a caregiver is not as easy as you might imagine. Finding the perfect client-caregiver match takes a lot of effort. It takes planning and carefully analyzing the needs of the client and matching them with a qualified caregiver. But even flawless qualifications won't be enough if the caregiver and the senior cannot communicate well or simply don't connect on a deeper level.
Here at A Better Way in Home Care, the leading Los Angeles Senior Home Care provider, we take pairing clients and caregivers very seriously. We do everything in an effort to improve your beloved seniors' quality of life at their venerable age. We aim to find the best possible match on every level, which is why we refer reliable, qualified and experienced caregivers.
For the perfect match to happen, the client and the caregiver have to connect on several levels. Here are some of the factors that could make or break a perfect senior-caregiver relationship.
Personality
First and foremost, a caregiver and a senior have to connect on a deeper level, and their personalities are the key to that. It's hard to predict whether the two people will click, as in many cases opposite personalities actually match better.
However, if a senior is shy and reserved, they might find a talkative and playful caregiver intimidating. Similarly, if a senior is an outgoing type they might want a caregiver who can reciprocate. That is why you want a caregiver who can adapt to both personalities.
Our caregivers are able to easily adapt to different personalities and work in different environments. If you choose our services, this is not something you should worry about.
Language
Needless to say, in order to have a good relationship the client and the caregiver need to be able to talk to each other. If the caregiver is only fluent in English and a senior knows no languages other than Spanish, an unbridgeable rift between them is unavoidable.
Culture also plays a large role here, and a caregiver familiar with or belonging to the same culture as a senior can help bridge many other gaps on the personal level.
Physical Needs
Some seniors might need help during a workout routine and performing light tasks around the house. Others may need help getting out of bed and going to the bathroom. It is important to pair a senior with a caregiver strong enough to help them move if necessary. A physically weak caregiver is therefore not an option in this scenario. Choosing a strong and capable caregiver is instrumental in making sure that neither the senior nor the caregiver are hurt.
Medical Needs and Qualifications
Finally, the caregiver has to be properly qualified to take care of a senior. This is especially important if they have special medical needs. Skills like CPR or using an oxygen mask are instrumental and can even save someone's life.
On the other hand, if the caregiver does not possess these skills you might be discouraged. And that's completely understandable. You and your senior loved ones need to know that you are in the safe hands of a caregiver who knows how to tackle any situation.
Since all of our caregivers have some medical experience, this is by far the easiest criteria to match a senior and a caregiver by. However, if the client and the caregiver don't click, all the medical training in the world won't make a difference.
Looking for Reputable Los Angeles Senior Home Care Agency?
The only way to know if your senior loved one and their caregiver are a good match is to monitor their behavior. You should ask for their opinions and get feedback on their relationship. If the caregiver enjoys your senior loved one's company, and the feeling is mutual, there's nothing more to worry about. If you are looking for a reliable Los Angeles Senior Home Care Agency, contact A Better Way at Home Care at 323.650.2211 for any inquiries on our caregiver referral program.