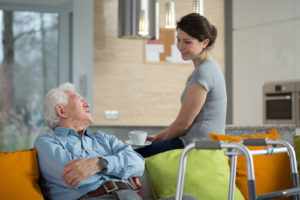 Out of the many difficulties people who care for patients with Alzheimer's have to face is the waning ability of the patient to communicate. These communication breakdowns can be difficult for both the patient and the caregiver which could lead to many hurtful interactions. This is why it is important for caregivers and other family members to develop the skills needed to communicate with an Alzheimer's patient. Professionals offering senior care services in Los Angeles know just how important patience and proper communication are important and in this article we list everything you need to know about how to approach this difficult condition.
Communication Breakdown
The most important things you need to practice with Alzheimer's patients are understanding and patience. This horrible disease affects the way patients think, which often makes their communication patterns erratic and unpredictable. There's no way of knowing which words might get twisted or confused with others and what message the patients are actually trying to convey.
At the early stages of the disease, the patients' ability to communicate is not as affected as it becomes later on. It might start with the patient being lost for words or communicating less and less. However, with time their communication skills deteriorate as does their ability to understand what they are being told. This could be a cause for frustration not just to the speaker, but the listener as well. If you don't practice patience with every interaction feelings may get hurt.
How It Affects Your Family
Like many other diseases, Alzheimer's can have devastating effects on your family relationship and be a cause for many conflicts. Caring for an Alzheimer's patient on your own is difficult and lack of communication can only make this burden worse. There's only little you can do to help a family member struggling with this disease, but you can take steps to make communication easier and keep problems from escalating. Don't hesitate to ask other family members for help if you feel you can handle everything on your own or even seek out trustworthy senior care services in Los Angeles to give you a hand.
How to talk To an Alzheimer's Patient?
When talking to a person struggling with this disease, the most important thing is to be supportive. Try not to interrupt them when they are talking no matter how long it takes them to utter a sentence. Show them that it's OK if they take their time and don't rush the conversation forward. When listening to a patient, try to read between the lines and focus on their emotions rather than syntax. You can try to guess what they are saying, but don't be too pushy as it could cause frustration in a patient.
Try not to correct them as they speak and avoid arguments by any means. Arguments are stressful as it is, and disability to communicate can only make them worse and more painful. Many people rely on gestures and body language to convey a message easier. It is also always a good idea to have the conversation in a quiet setting.
Senior Care Services Los Angeles Experts to the Rescue
Are you taking care of a loved one struggling with this disease but have trouble communicating with them? There's a time to try and help and there's a time to seek professional help yourself. If you feel you can no longer help make their life with this disease easier, do not hesitate to look for help at A Better Way in Home Care, the leading home care referral agency serving Los Angeles, West Hollywood, Beverly Hills and other areas.