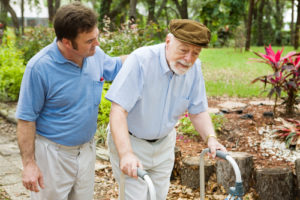 In our previous blogs, we talked about your senior loved ones' health. And while we are quick to give advice such as modify your diet or exercise more with the best intentions, how many of us actually follow the same advice? When was the last time you exercised? What did you have for lunch?
However, working for a respectable company that offers senior care referral services in Los Angeles, we have seen firsthand how slightly adjusting the diet and introducing an exercise routine can improve the lives of most seniors. Something as simple as a stroll around the park can help the elderly battle various health issues and make them feel better about themselves.
But how do we encourage them to make such a significant lifestyle change? Well, certainly not by lecturing them. Finding the motivation to exercise can be challenging even to us. However, getting your senior loved ones to realize the benefits a healthy diet and exercise have is crucial. Here are just some tips on how to get them motivated to improve their life.
Avoid Lecturing
If your senior loved ones avoided exercising while in their prime, chances are lecturing them to start now will have an undesired effect. Instead, try to encourage them to have fun by concealing the exercise under a fun activity. Take them for a walk and a picnic at the park or a stroll around the local zoo. Have them visit a friend or a family member who live a short walk away. If your senior loved ones avoid exercising, try to encourage a healthy walk by setting an interesting goal.
Don't Push Their Limits
Being older, your senior loved ones are not in the shape they used to be. But they don't have to run a marathon or play basketball to benefit from exercise. A simple walk around the block can vastly benefit their heart condition and overall health. If your senior loved one loved swimming, encourage them to visit a local pool for a short swim. If they love to spend time with their grandchildren, have them play games that will benefit their health, such as throwing a Frisbee around.
Establish a Routine
Making exercise a part of a senior's routine is the best way to ensure their health does not deteriorate. This is why they should be encouraged to take some time every day to exercise, no matter how long or how intense the workout is. Encourage them to visit their favorite coffee shop, a grocery store, a neighbor or a local animal shelter every day. Try to suggest as many activities as you can think of so they don't become boring and repetitive. Not only is this good for their health but will be fun and stimulating, as well.
Ask for the Doctor's Advice
Before your senior loved ones start exercising, it's best to visit the doctor's office and ask just how much activity is enough for them to stay healthy but avoid straining. Apart from this, the doctor can help encourage your senior loved ones to exercise by explaining the long-term benefits a simple walk to the mall could have.
Senior Care Services in Los Angeles
If you need any assistance in helping your senior loved ones exercise more, don't hesitate to reach out to A Better Way in Home Care serving Los Angeles and the surrounding areas. Our caregiver referral system ensures a perfect client/caregiver match, which in turn guarantees full customer satisfaction. With the help of our compassionate caregivers, your senior will be fit in no time.