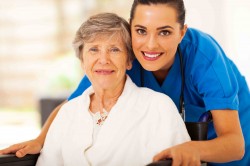 At A Better Way In Home Care, we want you to receive quality care and great service.  We are an in home healthcare service that recommends the finest caregivers in Beverly Hills to satisfied clients and have been doing so since 1998.
We strive to recommend only the best caregivers in Beverly Hills to our clients.  They must be compassionate, caring and love to help people in need.  ABW provides only the best home care and we have caregivers who can provide 24/7 service based on a client's individual needs and schedule.  We carefully work with all of our clients to ensure they receive the best care without interruption.
ABW is committed to providing caregivers that will give the best care to your loved ones in a giving and compassionate way.  They provide the same care that they would for their own families.  Our caregivers go through a detailed hiring process that ensures your loved ones are in an environment that is safe and pleasing.  ABW's caregivers make it possible for your loved ones to stay within the comfort of their own homes.
Beverly Hills in home care can make your loved ones more comfortable and secure in many different ways.  The following are just some of the ways in which the elderly can improve their lives with home care:
Not Being Alone.  It might not seem like a big deal, but elderly people are not alone when they have caregivers.  It is a bond that affords them companionship.  This is a good thing for those who live by themselves and feel like no one cares about them. These types of feelings can have a negative impact on health.  A good relationship can help both the caregiver and your loved one, which will make life better overall.
Getting Around.  A lot of elderly people find it difficult to move around the house.  Or, they might not be able to drive and cannot get out to run errands.  Caregivers can help them get around the house in a safe manner.  They will make it easier for your loved ones to stand and sit.  They also help them get around and do their errands by providing the needed transportation.
Eating right.  The elderly need to eat nutritious meals, but this can be hard to do if they are not able to cook or cannot taste foods like they once were able to.  Caregivers will make sure that they get the right nutritious meals and snacks on a daily basis.  They will also spend time with your loved ones during mealtimes, which will deepen the bond that they have with one another.
Provide Cleanliness.  The elderly have a hard time trying to continue their grooming habits.  Caregivers will help them with these daily rituals.  They will continue to be clean and healthy, which will do wonders to keep their confidence levels high.  Caregivers will also make sure that the home is safe and clean.
Call us today to get all of your questions about caregiving answered.  We are here to assist you and can be reached at: (323) 650-2211.