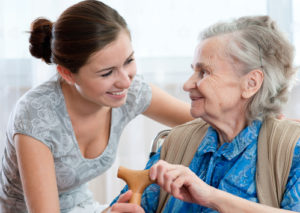 Having to take care of your ill spouse is a challenging commitment. Apart from the physical, there are the mental and emotional burdens to endure when faced with such a difficult task. Having to see the love of your life wither away, weighed down by the effects of a terrible disease such as the Alzheimer's is sure to take its toll on you. In order to make this heavy burden easier on you and your loved one, there are a few options you can consider when looking for expert home care in Los Angeles.
Consider professional home care in Los Angeles
If you are in need of assistance for your loved one, consider hiring a professional domestic worker (a.k.a. caregiver) for home care in Los Angeles. A caregiver can not only offer professional services to your loved one, but can help you with your daily tasks as well as some more demanding chores you are not able to do. Taking care of someone is so much more than reminding them to take their medication. A professional caregiver is there for your loved one and their task is to give you both the much needed emotional support, but also make sure your loved one is sleeping and eating well, assist them with showering and help them visit the doctor's office regularly. They can help you with daily chores like cleaning, cooking, doing the laundry giving you more time to spend with your loved one.
Taking care for your loved one without professional help
If you are reluctant to hire a referral agency providing home care service and insist on doing everything yourself, be mindful of your own health too. In this case, the most important piece of advice is to take your time when doing some difficult chores like moving heavy objects like for example your spouse's wheelchair. Do not strain yourself trying to lift anything heavy and beyond your abilities. Ask for help from your son or daughter, relatives or friends who might be willing to lend you a hand. Asking for help is not a sign of weakness and in fact takes a lot of strength. For all these reasons, asking for professional help might be your best and safest option.
A Better Way in Home Care: Premier home care in Los Angeles
A Better Way in Home Care refers professional caregivers to ill senior citizens. If your senior spouse's health keeps deteriorating, we are happy to find a suitable caregiver and refer them to you. Contact our agents for any inquires you might have about our referral home care program at: 323-650-2211.